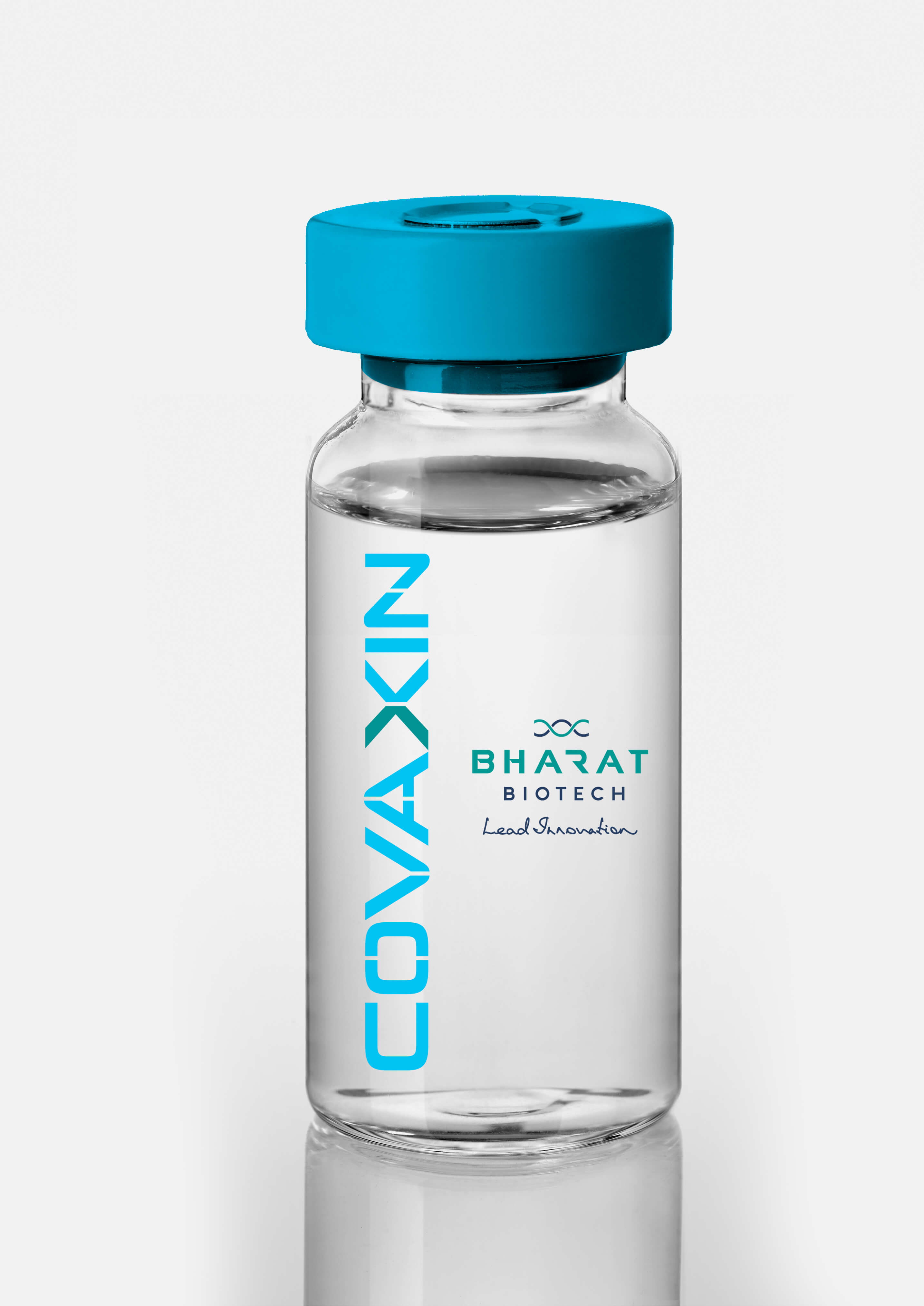 COVAXIN®, India's indigenous COVID-19 vaccine by Bharat Biotech is developed in collaboration with the Indian Council of Medical Research (ICMR) - National Institute of Virology (NIV).
The indigenous, inactivated vaccine is developed and manufactured in Bharat Biotech's BSL-3 (Bio-Safety Level 3) high containment facility.
The vaccine is developed using Whole-Virion Inactivated Vero Cell derived platform technology. Inactivated vaccines do not replicate and are therefore unlikely to revert and cause pathological effects. They contain dead virus, incapable of infecting people but still able to instruct the immune system to mount a defensive reaction against an infection.
Why develop Inactivated Vaccine? Conventionally, inactivated vaccines have been around for decades. Numerous vaccines for diseases such as Seasonal Influenza, Polio, Pertussis, Rabies, and Japanese Encephalitis use the same technology to develop inactivated vaccines with a safe track record of >300 million doses of supplies to date. It is the well-established, and time-tested platform in the world of vaccine technology.
Key Attributes:
COVAXIN® is included along with immune-potentiators, also known as vaccine adjuvants, which are added to the vaccine to increase and boost its immunogenicity.


It is a 2-dose vaccination regimen given 28 days apart.


It is a vaccine with no sub-zero storage, no reconstitution requirement, and ready to use liquid presentation in multi-dose vials, stable at 2-8oC.


Pre-clinical studies: Demonstrated strong immunogenicity and protective efficacy in animal challenge studies conducted in hamsters & non-human primates. For more information about our animal study, please visit our blog page on Non-Human Primates.


The vaccine received DCGI approval for Phase I & II Human Clinical Trials in July, 2020.


A total of 375 subjects have been enrolled in the Phase 1 study and generated excellent safety data without any reactogenicity. Vaccine-induced neutralizing antibody titers were observed with two divergent SARS-CoV-2 strains. Percentage of all the side-effects combined was only 15% in vaccine recipients. For further information, visit our blog page on phase 1 study.


In Phase 2 study, 380 participants of 12-65 years were enrolled. COVAXIN® led to tolerable safety outcomes and enhanced humoral and cell-mediated immune responses. Know more about our phase 2 study.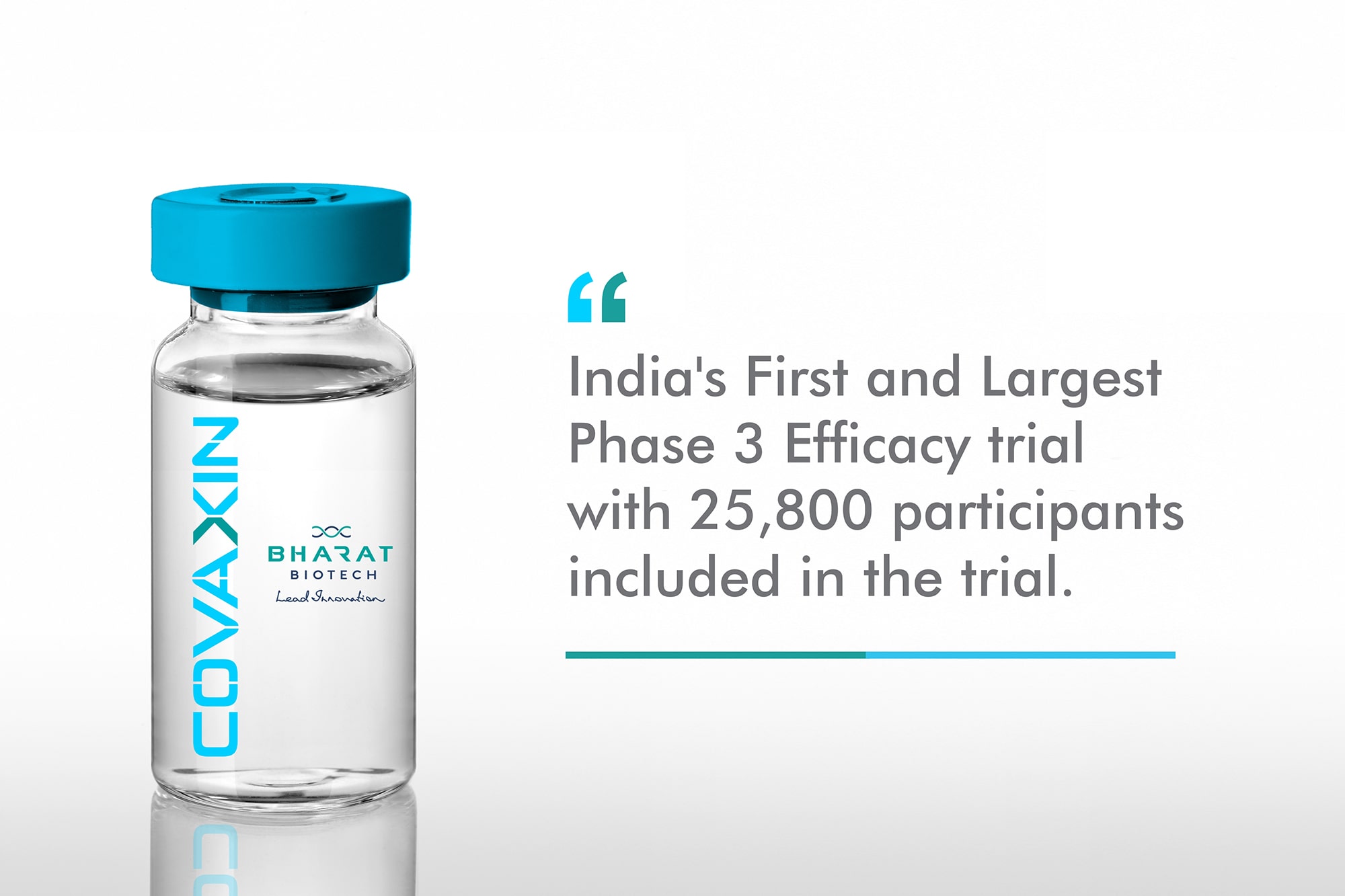 A total of 25,800 subjects have been enrolled and randomized in a 1:1 ratio to receive the vaccine and control in a Event-Driven, randomized, double-blind, placebo-controlled, multicentre phase 3 study.


The purpose of this study is to evaluate the efficacy, safety, and immunogenicity of COVAXIN® in volunteers aged ≥18 years.


Of the 25,800 participants, >2400 volunteers were above 60 years of age and >4500 with comorbid conditions.


COVAXIN® demonstrated 77.8% vaccine efficacy against symptomatic COVID-19 disease, through evaluation of 130 confirmed cases, with 24 observed in the vaccine group versus 106 in the placebo group. The efficacy against severe symptomatic COVID-19 disease is shown to be 93.4%. The efficacy data demonstrates 63.6% protection against asymptomatic COVID-19.


Safety analysis demonstrates adverse events reported were similar to placebo, with 12% of subjects experiencing commonly known side effects and less than 0.5% of subjects feeling serious adverse events.


COVAXIN® Effective Against Variants of Concern:
It has proven to neutralize the variants - B.1.1.7 (Alpha) first isolated in UK, P.1- B.1.1.28 (Gamma) & P.2 - B.1.1.28 (Zeta) first isolated in Brazil, B.1.617 (Kappa) first isolated in India, B.1.351 & B.1.617.2 (Beta & Delta) first isolated in RSA & India.


Efficacy data demonstrates 65.2% protection against the SARS-CoV-2, B.1.617.2 Delta variant.